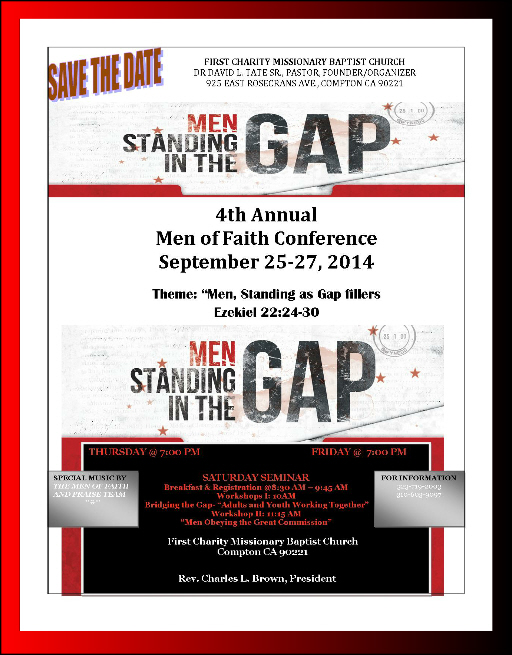 4th Annual
Men of Faith Conference
September 25-27,2014

Theme:"Men, Standing as Gap Fillers
Ezekiel 22:24:-30

Special Music by The men of Faith and Praise Team

Thursday @ 7:00 PM Friday @ 7:00 PM

Saturday Seminar
Breakfast & Registration @ 8:30 AM - 9:45
Workshops 1: 10AM
Bridging the Gap-"Adults And Youth Working Together
Workshop 2 @: 11:15 AM
Men Obeying the great Commission"

First Charity Missionary Baptist Church
Compton CA 900221

Rev. Charles L. Brown, President
Charles and Pauline Brown
Founders & President of
U-Can International & Associates
---
Creators of the Compton 125 Project for the city of Compton, They are the coordinators and are over seeing this true heart felt need for change on the out look of the city Compton.
Many special people came together to help create this reality in celebrating the history of our city of Compton by empowering & engaging our citizens with fun, inspiring and educational activities to promote positive relationships with F.I.R.E.
Why Fire.... it can be used as a purging agent. Their goal is to raise the image of our city by using these positive events to purge (chip away at) the negative stigmas that's held our city hostage for so long. We want to expose the good and destroy the bad with F. I. R. E. fun, inspiring, relevant and educational events.
The year long Compton 125 Project is over but Ucan International & Associates are always giving Special Event. Keep checking back with this Event page and and get info. on the next events.
See the pass events on the Compton 125 Project on Twitter & Facebook. Click the buttons below and you will see the fire! and don't forget to like our page.